Children:

15€

The UNESCO-listed Acropolis of Athens is the city's most visited attraction, but it has the traffic to match. This 2-hour walking tour makes an early start to avoid the crowds and includes highlights such as the Parthenon, the Theater of Dionysus, and the Odeon. For the full experience, upgrade to include a 2-hour guided visit to the Ancient Agora.Tour starts at 09:00 am.

Highlights

2-hour Acropolis of Athens walking tour
Get there before the crowds with an early morning tour
Marvel at the Parthenon, the Theater of Dionysus, and the Odeon
Enjoy an optional 2-hour tour of the Ancient Agora
Learn more about life in Ancient Greece from your guide
Acropolis Tour Morning
Meeting point easy and efficient.

Meet your guide at Acropolis metro station (ticket level) in time for an 9am departure and walk the short distance to themonunents to start your Acropolis morning tour. After picking up your tickets from your guide (skip the lines tour), head inside to explore the hilltop archaeological site.

Acropolis Morning tour.

Listen as your guide transports you back to ancient Greece with stories of the ancient city and its importance. Stop to admire the magnificent ruins, most of which date back to the 5th-century BC. the much-photographed Parthenon, the restored Temple of Athena Nike, and the Erechtheion, known for its exquisite Caryatid statues.

Upgrade available to Ancient Agora.

After around two hours exploring the ruins, either end your tour at the Acropolis exit on Mars Hill. Continue to the Ancient Agora (if upgrade selected). Discover the grand Ancient Agora, once the epicenter of ancient Athens, on a 2-hour tour.  Even more visit monuments such as the beautifully preserved Temple of Hephaestus and the renovated Stoa of Attalos.

Your tour ends in Monastiraki Square in central Athens.

Tour starts at 09:00 am.

Explore the ancient monuments of the Acropolis in Athens
See the crowning glory of the Parthenon
Discover the first theater of humanity at the ancient Theater of Dionysus
Admire the Porch of the Caryatids at the Erechtheion

Monuments you cover:

Acropolis, Athens, Attica
Parthenon, Athens, Attica
Theater of Dionysus, Athens, Attica
Herod Atticus Odeon, Athens, Attica
Erechtheion, Athens, Attica
Temple of Athena Nike, Athens, Attica
Propylaea, Athens, Attica

Accessibility: Not wheelchair accessible
Near public transportation
Infants must sit on laps
Entrance fees are excluded from the price and they cost 20 euros per adult, 10 euros per student (with show of a student car) and free for non adults with show of an identity document.
Children must be accompanied by an adult

Confirmation will be received at time of booking
Information regarding tickets – Tickets are purchased onsite
Entrance fees payable by cash directly to the tour guide on the day of the tour. Acropolis 20 euros per adult from April to October, 10 euros per adult from November to March. Ancient Agora 8 euros per adult from April to October, 4 euros per adult from November to March
Free entrance to Children under 18 years old provided they present a valid passport at the entrance of the Acropolis of Athens

Hat (especially on warm months, June, July, August)

Cancellation Policy

If you cancel at least 7 day(s) in advance of the scheduled departure, there is no cancellation fee. If you cancel between 3 and 6 day(s) in advance of the scheduled departure, there is a 50 percent cancellation fee. If you cancel within 2 day(s) of the scheduled departure, there is a 100 percent cancellation fee.
Meeting Point: Acropolis metro station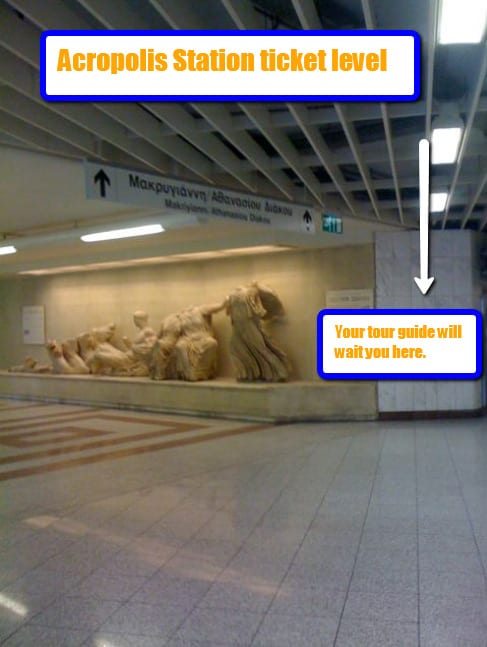 Acropolis metro station down to the ticket level by the ticket machines
Return Details
Acropolis tour finishes at the exit of Acropolis monuments at Mars Hill by Plaka area. The upgrade Acropolis and Ancient Agora will finish by Monastiraki square.